Sara Danius dies at 57
Av: Petter J Larsson
Publicerad:
Uppdaterad:
NYHETER
Sara Danius, the first female head of the Swedish Academy, has died following a long battle with illness.
The author, literature critic and professor, who was the first woman titled permanent secretary of the body that awards the Nobel Prize in literature, died in her sleep the night before Saturday, surrounded by her family. She was 57 years old.
"The family deeply mourns her passing and look back at her life with a big gratefulness, pride and joy," her sister Isadora Cugler wrote to Aftonbladet.
Danius's brother Linus Feldt said the family has now gathered to give each other support.
"It was calm and quiet when Sara passed away. She was at a nursing home the last period and the staff there have been fantastic," Feldt said.
Danius's other sisters honoured her on instagram.
"Sleep well my sister, sleep well the whole world's sister," her sister Eleonora von Essen wrote.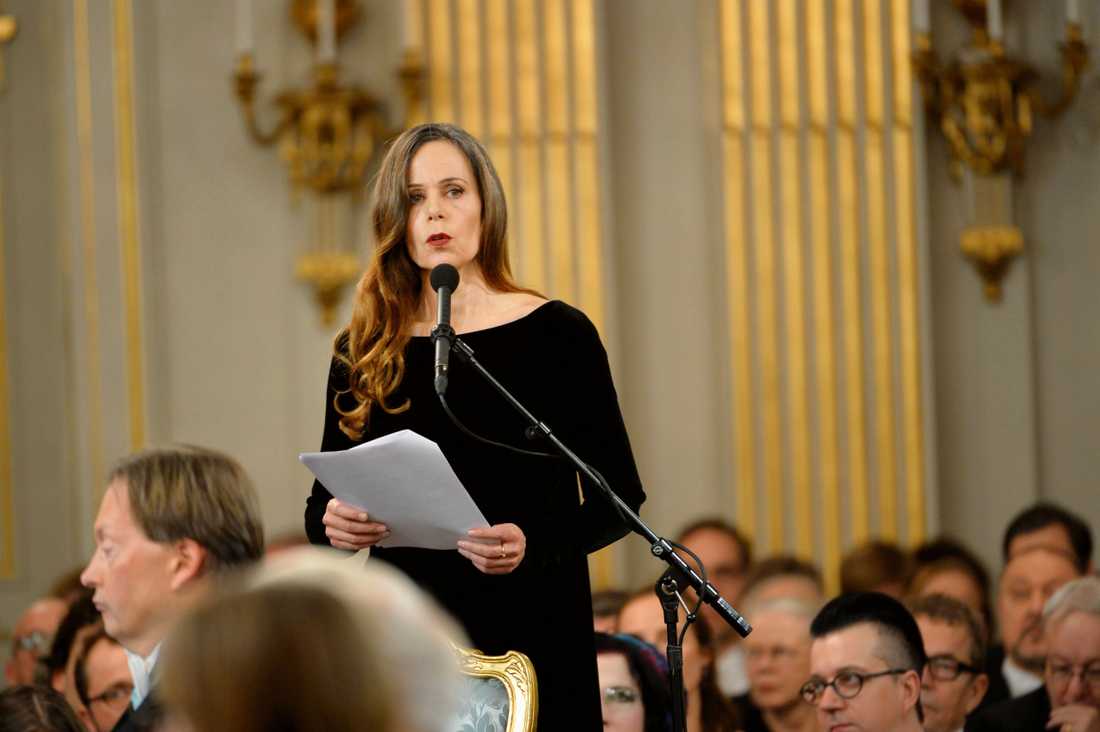 Foto: JONAS EKSTRÖMER / TT
Sara Danius, the first female head of the Swedish Academy, has died following a long illness.
"In despair" after cancer diagnosis
Aurora Stark wrote: "Today the world became a poorer place. Rest in peace, beloved, magnificent Sara."
In a radio show in 2014, Danius open-heartedly talked about how she had been diagnosed with breast cancer.
"I was in despair. My first thought was that I would never see my son grow up – thoughts that were awfully painful," Danius said.
In March, she spoke on "Skavlan", a talkshow on Swedish SVT, about a cancer recurrence.
"I was at a hospital and had to go through a surgery. It was pretty serious," she said.
The daughter of author Anna Wahlgren, Danius was born in 1962 in Täby, a municipality north of the Stockholm.
Foto: Peter Wixtröm
Sara Danius.
Lived in Germany, England and the US
Until her death, Danius was professor in literature at Stockholm University, having previously also served as a professor in aesthetics at Södertörn University in the Swedish capital.
It was at Södertörn that she first started to wear what was going to become her signature clothing item – the bow-collar blouse.
Apart from studies in Germany and England, Danius has also received a Ph.D. at Uppsala University as well as at Duke University in the US, a country where she has also been living for a long time.
First ever female Swedish Academy head
Danius wrote several books – including the essay collection "The death of the housewife" – and was a culture writer at Swedish newspaper Dagens Nyheter.
In 2013 she was elected a member of the Swedish Academy, taking over chair number seven after Knut Ahnlund. Two years later she became the first woman ever to take over as the Academy's permanent secretary.
She stepped down from her role in April 2018 year after a sex abuse and financial crime scandal that shook the Swedish Academy, formally leaving the Academy on 26 February this year.
"I have made the decision to leave my chair in the Swedish Academy, chair number seven, that was once clad by the first woman ever to become elected to the Academy, Selma Lagerlöf," Danius said on her decision then.
"It has been a great honour for me to sit on this chair."
Publicerad:
LÄS VIDARE